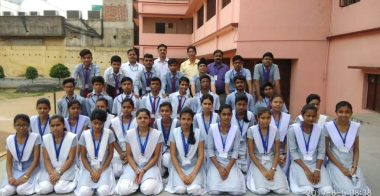 Academic achievements in 2019-2020
Students of AVM have shown their mettle by scoring high percentage in the Senior Secondary board Examinations .
Welcome to Adarsh Vidya Mandir
ADARSH VIDYA MANDIR is one of the pioneer institutions that has provided high-quality education to thousands of students for over 50 yrs. It stands on the four pillars of education that are learning to know, learning to live together, learning to do, and learning to be.
"An investment in knowledge always pays the best interest," said Ben Franklin. Adarsh Vidya Mandir is an institution where a student is imparted with an exemplary education. It allows the student all-round development mentally, physically, socially, and spiritually. A student is nurtured with care from a tender bud to bloom like a flower. An amalgamation of highly qualified teachers and academic staff make the base of a student to get an appropriate livelihood in their life.
Students Performance in CBSE Board Exam-2019-20
List of Students in Science :
Prakash kr Upadhyay _ 95%
Mandeep Singh Saluja _ 94.4%
Siddharth Shankar _ 94.2 %
Nitin Raj _ 93.2 %
Esha Keshri _ 92.8%
Enam Hussain _ 92.6 %
Abhay narayan _ 92.6 %
Priyanka Priyadarshini _ 92.2 %
Shalini Kumari _ 91.6
Pradeep kr Gope _ 91.4%
Kusum Kumari _ 90.2 %
Commerce :
Harshita kri Doshi _ 95.2 %
Shaksham _ 94.8%
Riya Roy _ 93.6%
Rounak Gupta _ 90.8%
Secondary Board Examination :
Keshav kr Jha _ 96.4%
Keshav kr Jha _ 96.4%
Rajat kr Mishra _ 95.6 %
Nishan Agarwal _ 95.4%
Naghma Khatoon _ 95.4%
Barkha Kumarin _ 95.2%
Sachin Kr Mishra _ 94.6%
Dharamveer Kumar _ 93.8 %
Abhishek kr Paitandi _ 93.4%
Sumit kr Dubey _ 93%
Ankit Kr _ 92.4%
Sanchit Kr _ 92.4%
Lipi Kumari _ 92.4%
Alok Kumar _ 92 %
Guddu Khanna _ 92 %
Sourav Sharma _ 92%
Md . wasim Akhtar _ 91.6%
Ritika Gupta _ 91.6%
Kundan Ghoshal _ 91.4%
Satyam Sinha _ 91.4%
Atika abid _ 91%
Smriti Sharma _ 90.4%
Sourav kr dey _ 90.4%
Reshav kr Pandey _ 90%